Avant propos. Foreword.
Créations réalisées par
JP Milesi*, jusqu'à ce jour.
Creations to date
Avant propos, Foreword

Sculpture, modelage… , modeling …
Atelier "Terre et Sculpture" de Saint-Cyr-en-Val (Loiret), octobre 2013-2017, sous la houlette complice de Magali CAUMON.

"Land and Sculpture" of Saint-Cyr-en-Val (Loiret) from October 2013 to 2017, under the leadership of Magali CAUMON.

Stages de Claude BERTRAND entre 2014 et 2019; Maître sculpteur 3P: passionné, passionnant et pédagogue.

Claude BERTRAND workshop in between 2014 and 2019; Master in sculpture 3P: passionate, exciting and educator.

Atelier de la MJC de La Ferté-St-Aubin, en 2014, amicalement piloté par Anne Beunier, Sandrine Ghestem et Sylvie Harault. 

MJC of La Ferte-St-Aubin, since October 2014, friendly led by Anne Beunier , Sandrine Ghestem  and Sylvie Harault.

A Ligny-le Ribault, depuis 2014, dans mon atelier.To Ligny-le Ribault, from 2014, in my garden.
Peintures et aquarelles. Painting & Watercolor
Depuis depuis ! les années 90  jusqu'à 2014, grâce à la liberté de création, favorisée par Michelle Neuhard. since! the 90s until 2014, thanks to the creative freedom, favored by Michelle Neuhard.

Puis, dès 2017, cours d'aquarelle par

Claire Valentin à l'UTL du Loiret, puis les "artistes de Béraire" à La Chapelle St-Mesmin. Then workshop of watercolor by Claire Valentin in the UTL of Loiret, then "artistes de Béraire" at La Chapelle St-Mesmin.

Aquarelles encadrées grâce aux cours d'YSA à Ligny le Ribault 

A Ligny-le Ribault, dans mon atelier.To Ligny-le Ribault, at home.
"JPM en 
Mimilberg
"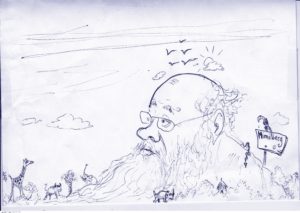 Un "inselberg" est une montagne chauve souvent granitique, fréquente en Afrique, entourée de savane arborée. A "inselberg" is a bald granite mountain, common in Africa, surrounded by savannah.
Ce dessin d'"inselberg" (JPM en "Mimilberg" )a été réalisé en réunion de travail, sans doute très ennuyeuse, par mon ami Jean-Luc Lescuyer, qui a bien compris ma passion pour l'Afrique et pour toutes les créatures. Je le remercie pour toutes ces années d'amitié et de partage. This drawing as "Mimilberg" was performed during a work meeting, probably very boring, by my friend Jean-Luc Lescuyer, who understood my passion for Africa and for all creatures. I thank him for all those years of friendship and sharing.
*Géologue & monstre